October is just around the corner, which means it's time to give you all a sneak peak at the awesome fibers I'll be stocking in the
Things Liz Makes shop
. This is the first month that the shop is contributing to the Phat Fiber Sampler box, so the October fibers go along with the Phat theme for October: The Witching Hour. I plucked my inspiration from the most fabulous witches I know, the Sanderson Sisters from Hocus Pocus.
This animated version of the Hocus Pocus sisters is where I got my inspiration.
Have a look at the samples I'm sending to Phat HQ today: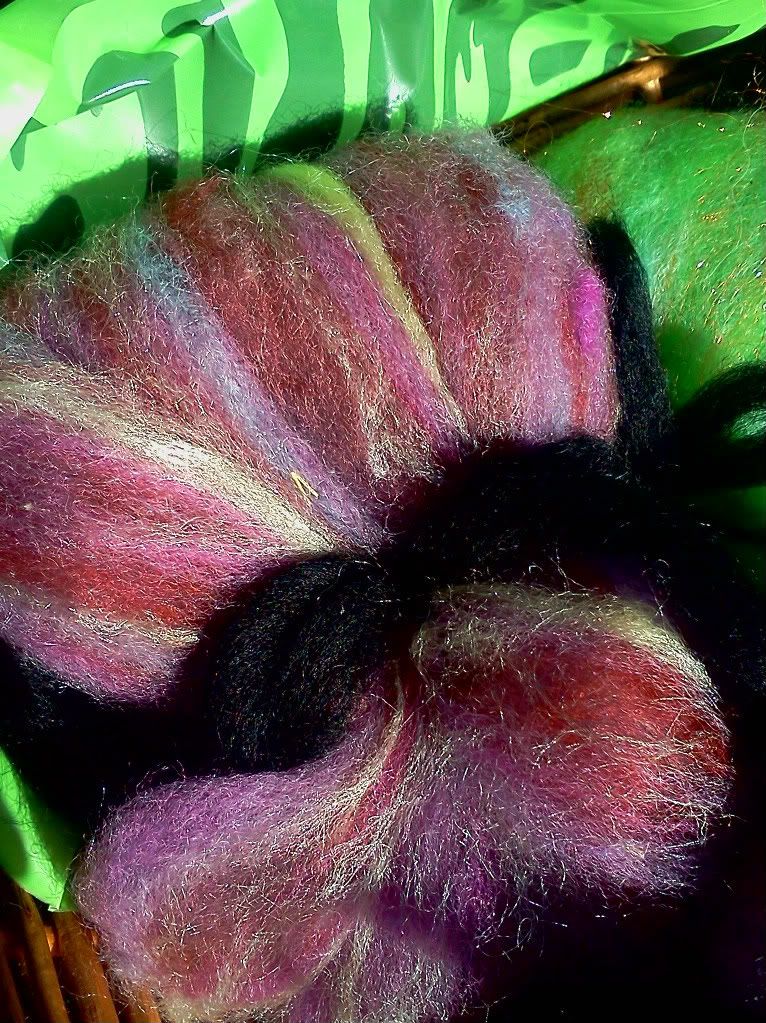 "Amok, Amok, Amok!" - Sarah Sanderson
Sarah Sanderson is a silky little minx, and her fiber is too. The Sarah inspired colorway is a blend of fuscia Targhee wool, maroon Merino and nylon blend, pale yellow Tussah silk and a strip of black Merino wool to tie it all up. The full sized batts have the black blended right in, so it spins up together with pops of color, shine and darkness.
"I Smell Children..." - Mary Sanderson
Mary Sanderson is a soft, simple, no-frills kind of gal. The Mary inspired colorway keeps in line with this by being a no-sparkle workhorse sock blend of maroon Merino and nylon blend, natural chocolate brown BFL wool, streaks of vibrant purple nylon and black Merino to pull it all together. The black will also be blended into the batts for the full sized version of the colorway. This blend is super soft and resilient enough for sock yarn.
"I Put a Spell on You" - Winifred Sanderson
Winifred Sanderson needs no introduction. After all, of all the witches working, she is the worst. The colorway inspired by the black-hearted Winifred is high contrast and sparkly, perfect for an art yarn. The blend includes bright green Targhee wool, soft blue baby alpaca, fiery orange Firestar and a strip of black Merino wool, because you can't have Winifred without some deep dark evil inside. As with the other colorways, the black Merino will be blended right into the full sized batts.
I had a ton of fun making these colorways, and I can't wait to get the full sized batts finished up and posted in the shop. If you love the colors and fibers but don't spin, there will also be a spinning service listing that you can snag at a discount with these batts to have your own custom Hocus Pocus yarn. If you want to get your hands on a sample sized Sanderson Sister, swing by
Phat Fiber
and get on the list to be emailed with the box drop date. You'll also get your hands on samples from a ton of other awesome fiber artists, all with the fun Witching Hour theme. Full sized batts will be listed in
the shop
right around the time of the box drop, so look out for them!