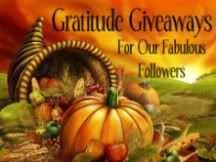 Thanks to I Am A Reader Not A Writer for hosting!
Our friends at I Am A Reader Not A Writer are hosting a fantastic giveaway hop November 17 through 27. Things Liz Loves is participating in a BIG WAY!
I'm offering THREE prize packs! Each prize pack will have an ARC, a cute bookmark and a handmade crochet goody as yet to be determined. I have a couple of really cute headbands and some great bags, so bet on it being something really awesome! I'm going to start selling my cute handmade crafts on an Etsy page, so you will be able to check out some of the stuff I make and get a preview. I'll post pictures of the prize packs in the official contest post.
These will be the rules of the contest:
This contest is open to Google Friend Connect followers with a US shipping address only. Entries must be received by November 27th, and winners will be announced on November 28th. You can earn up to 2 extra entries by blogging or Tweeting about the contest and providing a link in the form. You can enter for any or all of the prize packs, but please only fill out the entry form once! The winners will be chosen using the Random Number Generator at RANDOM.ORG and will have 48 hours to respond to the notification email. If any of the winners fail to respond, I will choose a new one.
I can't wait to be a part of this awesome giveaway! Check back for more information, and check out my Contests tab to see some other great giveaways! Don't forget, I still have an ongoing contest for another $20 Amazon gift card when I hit 150 followers. Hooray for free stuff!