Welcome back to Thursday's Pick, where I give you the skinny on the best upcoming releases to book, film and DVD! You know how it goes: I tell you what's coming out that I'm excited about, give you some tasty tidbits about why it's worth checking out, and you tell me what you think! Leave me some comments, I love them! You can even snatch the idea and do your own Thursday's Picks, just grab a button from the sidebar and have a blast!
Now it's pick time!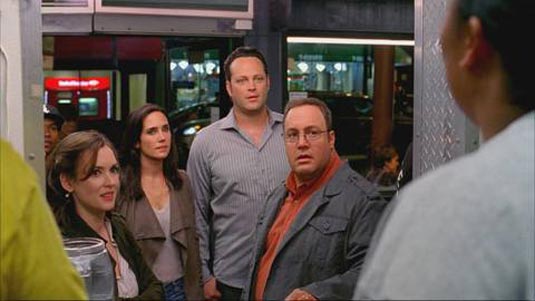 This Week's Movie Pick:
The Dilemma
Release Date: January 14, 2011
Rated PG-13 (Universal Pictures)
Starring Vince Vaughn, Kevin James, Winona Ryder, Jennifer Connelly and Channing Tatum
Summary (Courtesy of Moviefone):
A lifelong bachelor struggles with the decision to tell his best friend that his wife is cheating on him with another man in this comedy from director Ron Howard and producer Brian Grazer. Inseparable since college, best friends Ronny (Vince Vaughn) and Nick (Kevin James) have recently gone into business together by starting their own engine design firm. Meanwhile, Ronny has begun dating Beth (Jennifer Connelly) and Nick is happily married to Geneva (Winona Ryder). The four friends couldn't be more happy together until the day that Ronny catches Geneva with another man (Channing Tatum), and tells her that he can't keep the news a secret from Nick. But when Geneva fires back that she will deny everything and shift the blame to Ronny, the decision over how to handle the sensitive situation becomes all the more difficult. Subsequently attempting to gather irrefutable evidence of the affair, Ronny uncovers a few secrets about his old pal Nick as well. And the timing couldn't be worse either, because in just a few days Ronny and Nick are scheduled to give the presentation that could make or break their company. With the weight of the truth bearing down on Ronny's conscience and no simple solution to his pressing dilemma, it all comes down to one crucial, defining moment that could make or break his friendship with Nick forever.
This week was a tie between The Dilemma and The Green Hornet, but I figured I would let Stephanie take the lead on the Green Hornet for tomorrow's weekend movie pick. The Dilemma is no short straw as far as picks go, however. It's got Kevin James, who is one of my favorite comedians of all time, and Vince Vaughn, who makes everything hilarious. The two together seem to have great comedic chemistry, and I really think it will make for some riotous screen moments. Also, Channing Tatum's hot self is in this one, being all hot and stupid and adulterous as the other man to James's wife, Winona Rider. PS, why does Kevin James always land waaay hot chicks as his significant other in every movie or show he's in? It's the funny, I think. Check out the trailer and see if you find yourself inexplicably drawn to him.
This Week's Book Pick:
The Weird Sisters
Written by Eleanor Brown
Release Date: January 20, 2011
Publisher: Kirkwood (A Penguin Group Imprint)
Summary (Courtesy of Barnes and Noble):
A major new talent tackles the complicated terrain of sisters, the power of books, and the places we decide to call home.
There is no problem that a library card can't solve.
The Andreas family is one of readers. Their father, a renowned Shakespeare professor who speaks almost entirely in verse, has named his three daughters after famous Shakespearean women. When the sisters return to their childhood home, ostensibly to care for their ailing mother, but really to lick their wounds and bury their secrets, they are horrified to find the others there. See, we love each other. We just don't happen to like each other very much. But the sisters soon discover that everything they've been running from-one another, their small hometown, and themselves-might offer more than they ever expected.
I know, shock! It's not an urban fantasy young adult pick! I can read grown up books too. And they don't even have to be supernatural or science fiction-y for me to read them. This book seems like a really heartfelt story about sisters trying to find a bond that they should have, but never had. I can relate to that. My own sister and I weren't close for a while because we lived with different parents, so when I moved to Utah to be closer to my mom and siblings, it was tenuous at first. We had a pretty hard time getting along for a while, but now we're closer than ever. I think I'll be able to relate to this book in that sense, which will be pretty interesting. I also think the other elements of the story will mix nicely and make for a great read. Plus, the main characters are all named after Shakespeare characters. How much win is that?
This Week's DVD Pick:
Buried
Release Date: January 18, 2011
Rated R (Lionsgate)
Starring Ryan Reynolds, Ivana Miño, Stephen Tobolowsky, Samantha Mathis and Diane Farr
Summary (Courtesy of Moviefone):
Paul Conroy is not ready to die.

But when he wakes up 6 feet underground with no idea of who put him there or why, life for the truck driver and family man instantly becomes a hellish struggle for survival. Buried with only a cell phone and a lighter, his contact with the outside world and ability to piece together clues that could help him discover his location are maddeningly limited. Poor reception, a rapidly draining battery, and a dwindling oxygen supply become his worst enemies in a tightly confined race against time-fighting panic, despair and delirium, Paul has only 90 minutes to be rescued before his worst nightmare comes true.
This movie just looks like it would creep me out. I hate hate hate confined spaces, and the mere thought of being buried alive makes it hard to breathe. I have a feeling this movie will really dig at the scary part of my brain and give me buried alive nightmares for a while. Here's hoping it's not one of those unhappy ending movies and I don't have to watch Ryan Reynolds die...he's the sexiest man alive, after all.