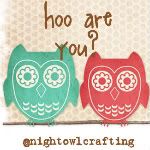 1. What is your Zodiac sign? Libra, the best ever...
2. Name 3 things that are always in your purse besides your wallet. Pens, coupons and chapstick. So exciting.
3. Which magazines do you look at the most? I always catch myself scanning the supermarket tabloids. I can't stand them, but whenever I'm in line at the grocery store, I start reading it automatically. It's awful, but I can't look away!
4. Do you pluck or get your eyebrows waxed? Pluck. I had a really bad experience with eyebrow waxing once and will NEVER do it again.
5. How often do you go grocery shopping? Once a week. My husband eats a lot of meat, so we have to replenish the supply.
Head over to Night Owl Crafting and visit the other blogs in the link list!